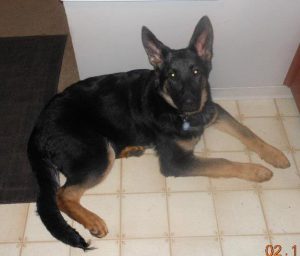 Getting a puppy from Tiltonhaus was one of the best decisions my family and I have made.
Having lost our German Shepherd tragically a few weeks before visiting the Tilton's, we were very particular on where our next Shepherd would come from. Being able to meet the puppy parents, as well as to view where they were being raised was very important. All of this was achieved in our first visit. We were very impressed with not only the surroundings, but the socialization the puppies received. Once we choose our puppy, we were welcomed back each weekend for a visit until she was old enough to come home. Since joining our house Tiko, who is now almost 6 months old, has become a part of the family. She learns very fast and in less than 2 weeks was completely house broken!
Her abilities, kindness and general demeanor are attributed to that great breeding!
Thanks to the Tilton's for our wonderful addition. We love her!