My name is Tammey Tilton, and for as long as I can remember, I have been surrounded by German Shepherds. I have a great love and passion for German Shepherds, due to their intelligence and loyalty.
I have a large, close family that are helping me raise, train, show and breed the dogs I love. Tiltonhaus kennel is attached to our home so that our German Shepherds can live primarily in our home enjoying family life with us. Rotating the dogs this way gives each dog lots of quality time with us.
We strive to give our dogs the environment and attention that best enhances their well being and health. We live on 10 acres of land where our dogs can run and explore, along with several secure yards and runs for outdoor activity. Tiltonhaus German Shepherd dogs enjoy family outings, such as hikes, bike rides, picnics, camping, vacations, etc.
All of our German Shepherds are purebred, AKC Registered, and come from top West German champion bloodlines (known for producing dogs that are not only beautiful, but have balanced temperaments and strong work ethics). Tiltonhaus dogs produce beautiful Long Coat and Stock Coat German Shepherd puppies.
The breeding stock that I have selected are DNA tested for several genetic diseases, so that you have the "Peace of Mind" that your puppy will not exhibit the common diseases including D.M. (Degenerative Myelopathy). What Does DNA Testing Do For Me?
Our breeding dogs have had their hips and elbows certified with either the German SV a-stamp program or through OFA, which gives us the confidence to have all of our Tiltonhaus puppies guaranteed for hips and health in writing. (CLICK HERE to read our Health Guarantee and Purchase Agreement)
Tiltonhaus kennel strives to raise healthy, happy and confident puppies that love people. Our puppies are handled and socialized from birth. So we become very attached to these little pups and care about their well being. Learn about "How We Raise Our Puppies" by clicking here. Potential buyers should be prepared to answer questions about why they want to purchase a puppy and their plans for their puppy. We recommend that your new puppy get basic obedience training to be a happy, well-adjusted dog.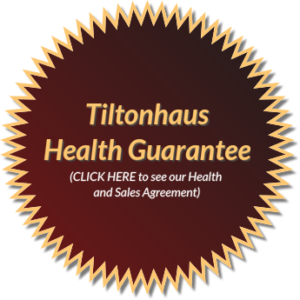 Tiltonhaus puppies come to their new home with the following:
AKC Registration Application
2-Year Hip and Elbow Guarantee
LIFETIME Guarantee that your puppy will be free from several genetic diseases commonly found in German Shepherds,
Veterinarian Health Check
1st Vaccinations (5-way) and De-wormed naturally
AKC Reunite Microchip
A small piece of flannel, toy or chew with mom's scent on it, AND
Receive LIFETIME Support — we will always be here to answer your questions, and help you enjoy your puppy to the fullest.
We are officially recognized as being in the AKC Bred with H.E.A.R.T. program and have signed the Breeder's Code of Ethics. We actively train, title, and show our dogs, and are members of the Lilac City Dog Training Club, AKC, GSDCA, UKC and USCA.
Tiltonhaus is family owned and operated, fully licensed business located in Deer Park, Washington (15 minutes north of Spokane, WA). We are inspected regularly by Spokane County Regional Animal Protection Service and Spokane County Building and Planning Department.